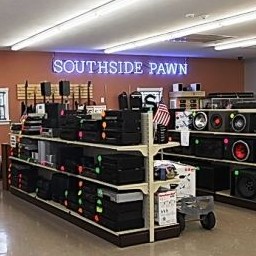 If you're in need of some quick emergency cash, Southside Pawn Shop in St. Louis is a great place to borrow the money you need.  At Southside Jewelry and Loan, you have the option of getting a collateral loan on items like gold, diamonds, jewelry or firearms, or you can sell those items for cash.  Millions of Americans visit pawn shops each year, asking the question, "Should I get a loan or sell my valuables?"  While there are several factors to be considered when deciding whether to pawn or sell an item, at Southside we recommend making a loan.  You'll get the cash you need with no "Credit Check" and without giving up ownership forever.
If you've never been to a pawn shop before you should take a moment to understand the difference between pawning and selling.  Pawning an item means that you are using your valuable item as collateral to secure a loan.  After appraising the value of your item with the professionals at Southside Jewelry and Loans, the pawnbroker will work with you to determine a loan amount.  You'll leave your item with the pawnbroker until you can repay the loan and collect your items.  We urge every customer to understand the loan terms before finalizing your deal.
Selling an item at a pawn shop is simply that: Selling the item to the pawnbroker.  When deciding whether you want to pawn or sell, you should remember a loan gives our customers a chance to redeem their valuables, or not return without any consequences.
Our suggestion is to make a loan because most jewelry has sentimental value.  Firearms are usually passed to family members.  Jewelry and firearms are items that usually increase in value over time.  Please consider the future value!
At Southside Jewelry and Loan we take pride in lending our customers top dollar, so they won't feel pressured to sell their keepsakes for more money today, while sacrificing tomorrow.