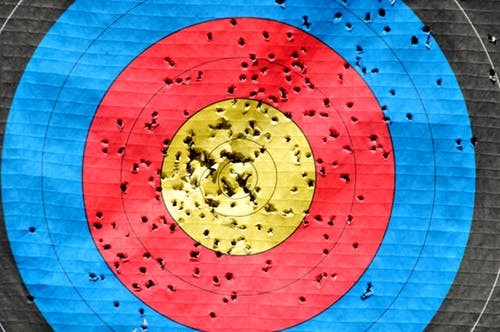 If you're on the lookout for a top-tier shooting range in St Louis, MO, then come to Sharpshooters Shooting Range. In fact, out of the thousands of shooting ranges that are strewn about the continental US of A, Sharpshooters stands poised to redefine the indoor shooting practice experience.
Sharpshooters Shooting Range in St Louis is as an example of what a shooting range should be.
Let me tell you why.
Sharpshooters Shooting Range in St Louis is an NSSF certified 5-star Range: That means that you can expect unimpeachable excellence in all aspects of management and operations. Everything in Sharpshooters Shooting Range, from customer service to private instruction, is representative of a 5-star experience.
Here at Sharpshooters in St Louis, we are a professionally run, safety-first, customer-oriented facility. We have set the bar high, and every other Range is playing catch-up.
Sharpshooters Shooting Range is a world-class facility: When you step into Sharpshooters Shooting Range, you step into the newest and largest indoor shooting range in St Louis. There are 20, 4 ft wide by 25 yds long, lanes. Each one is equipped with state-of-the-art ballistic protection and digital retrieval systems. Five of the lanes are equipped with a tactical, fully computerized target system. Additionally, the installed bullet trap is made out of high-grade steel, which means that Sharpshooters permits the vast majority of large caliber weapons.
But that is not all. On the premises you will also find a 3,500-foot gun store, boasting a rather large selection of handguns, rifles, pistols, and shotguns. The showroom is staffed by a group of knowledgeable and friendly experts who are ready to answer any question you may have. As a bonus, any weapons purchased in the shop come with a free day at the Range. Oh, and did I mention the regular firearm sales?
Sharpshooters Shooting Range offers first-class instruction: In today's ultra-liberal leaning political landscape, gun-ownership has gotten a bad rep. Every time there is a notorious incident involving firearms, the talking heads on TV begin spouting off about the need for stricter gun control. However, few people realize that the problem does not lie in gun ownership, but in inadequate gun training.
That is why, here at Sharpshooters in St Louis, we take gun training extremely seriously. We offer first-class private instruction on gun safety, gun cleaning & maintenance, basic & advanced skills, rifle & carbine instruction. Additionally, Sharpshooter Shooting Range is qualified to offer a conceal and carry course for the state of Missouri, NRA basic pistol course, security officer training and qualifications, as well as specialized training for law enforcement agents.
Further Amenities:
Sharpshooters Shooting Range is home to one of St Louis best BBQ restaurants. Everything from nachos to smoked wings to full-blown BBQ plates is cooked daily and to perfection.
Sharpshooters Shooting Range offers a full gun-rental service so that no one is left out.
There is even a jewelry store for the ladies!